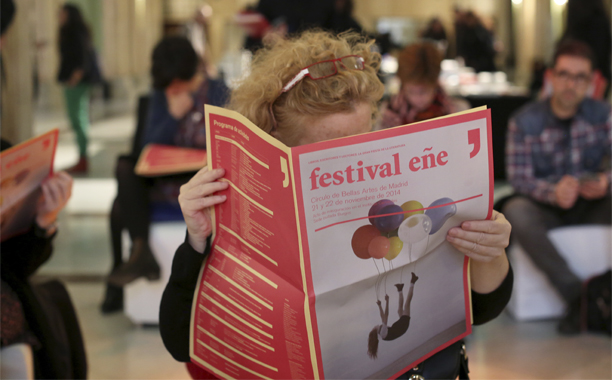 Festival Eñe: te recordamos el programa
Descarga la programación de Festival Eñe 2015 haciendo clic aquí.
Viernes 20 de noviembre
19h Acto de inauguración
Juan Goytisolo y Antonio Lucas
Una vida abriendo pasos
Intervención de Juan Goytisolo, en conversación con el escritor y periodista Antonio Lucas. Un recorrido por la obra, la vida y el compromiso del gran escritor, Premio Cervantes 2014, que encarna la libertad, la heterodoxia, la incesante búsqueda creativa y la mirada fértil y solidaria sin fronteras.
(2.a planta. Teatro Fernando de Rojas)
19.30h Diálogo intrépido
Agustín Fernández Mallo y José Edelstein
La falsa frontera: ciencia y poesía
Un encuentro entre la voz de la postpoética y la de la revolución científica. El escritor Agustín Fernández Mallo, que ha publicado 
en 2015 Ya nadie se llamará como yo y su obra poética reunida,
 y el físico, investigador y profesor universitario José Edelstein,
 autor de Antimateria, magia y poesía, protagonizaron un combate contra la acomodación y los viejos paradigmas de la literatura y la ciencia. ¿Hasta qué punto el lenguaje científico es ya una expresión poética? La incesante pulsión exploradora. Lo sentipensante: del sentir al saber.
(4.a planta. Sala de Columnas)
20h Conferencia exprés
Ruth Toledano
Con los ojos abiertos, abrir el corazón
Si el diálogo entre cultura y sociedad se ha debilitado, es porque la cultura ha cedido ante unos poderes que defienden que las cosas no son lo que parecen. La cultura debe restablecer ese debate sobre cuestiones urgentes como el holocausto animal o la destrucción medioambiental. Hay vida y vidas, individuos humanos y no humanos, cuyo sufrimiento ha sido reducido a estadísticas: un drama al que la literatura no puede ser ajena. Y no lo es: voces indignadas como las de Tolstoi, Kafka, Yourcenar, John Berger, Coetzee, Fernando Vallejo o Safran Foer salvan el mundo abriéndonos los ojos, como quiso Yourcenar, y abriéndonos el corazón, como quiere Coetzee. De la mano de Ruth Toledano, una oportunidad para alimentar el bosque de la subversión a través de la unión en la creación.
(5.a planta. Sala Valle-Inclán)
20h Lectura poética
Jesús Carmona-Robles
El poeta mexicano ofreció un recital en el que leerá poemas de sus tres libros, así como algunas traducciones de los poetas con los que ha trabajado. Una oportunidad para conocer una de las voces más inquietas de la poesía mexicana más reciente. Con el apoyo de la Embajada de México y del Instituto de México en España.
(2.a planta. Zona Chill Out)
20h Diálogo intrépido
Baltasar Garzón y Ernesto Ekaizer
Tiempos de «serie negra»
La «serie negra» o criminal es un género literario en alza, y no
 es ajeno ese interés a la condición de denuncia y escáner de la realidad social de las mejores obras. La ficción refleja, en este caso, una realidad de «serie negra». Incluso nota en el aire una sensación perturbadora de un exceso de «serie negra», debido a los múltiples casos de gran corrupción, con entramados políticos que funcionan como organizaciones criminales. ¿Qué ha fallado en la democracia española? ¿Se puede llegar a la raíz o hay espacios de impunidad? ¿Qué reformas deberían introducirse? Desde el periodismo y la literatura, ¿se están contando estos tiempos de serie negra en su verdadera dimensión?
(2.a planta. Teatro Fernando de Rojas)
20:30h Mesa redonda
Mª Teresa Cárdenas, Laszlo Erdelyi, Laura Revuelta y Pedro Crenes
Más allá de la nostalgia, un espacio anfibio
Desde el ya lejano boom literario, ¿avanza el intercambio cultural entre España y América Latina o vivimos una situación de stand by? ¿Qué nuevos movimientos y paisajes emergentes permanecen invisibles o ignorados? ¿Cuáles son los mayores obstáculos para intensificar el conocimiento y los espacios de encuentro? ¿Cómo reforzar la comunicación y la cooperación, cómo abrir pasos, con o sin participación institucional? La posibilidad de un espacio anfibio, más allá de la nostalgia.
Con el apoyo de Acción Cultural Española (AC/E). (5.a planta. Sala Valle-Inclán)
20:30h Lectura poética
Leire Bilbao
Poemas enredados
Redes de pesca. Oleaje. Barcos sin amarrar. Escamas. Memoria. Salitre. Branquias para soñar. Poemas que escapan de las redes y otros que quedan atrapados o flotando en la superficie del mar. Una muestra en deliciosas píldoras del trabajo de esta poeta, una de las mejores voces de la poesía vasca contemporánea.
(2.a planta. Zona Chill Out)
20:30h Diálogo intrépido
Mercedes Monmany, Kirmen Uribe y Luis Luna
El local universal
Mito y realidad de la globalización: uniformismo y diversidad. Las nuevas tecnologías, el mundo virtual y el cultivo de la diferencia.
 Lo fronterizo como espacio cultural, el multiculturalismo, los
países portátiles y las identidades compartidas. El reconocimiento de la pluralidad: logros y fracasos de la España de la Transición democrática. ¿Es posible recrear España como un ecosistema de diversidad cultural? Esta conversación tuvo lugar en el contexto del Club de Lectura Papeles a la Deriva. Frontera, desplazamiento y exilio en la literatura contemporánea, organizado por el Portal del Lector de la Comunidad de Madrid.
(4.a planta. Sala de Columnas)
21h Lectura poética
José María Garrido
La química o el amor
Desde hace algún tiempo, José María Garrido está cultivando la poesía en las redes sociales con un enorme éxito. En el Festival Eñe, el poeta toma corporeidad y se sube al escenario para lanzar al aire, no a las ondas, los poemas que le han hecho estar entre uno de los más seguidos en lengua española. La química o el amor es un recital donde el amor toma forma: tu cuerpo… y el tuyo… y el tuyo…
(2.a planta. Zona Chill Out)
21h Diálogo intrépido
José Luis Pardo y Miguel Ríos
¿Qué hay de nuevo, viejo?
Uno de los libros más celebrados del filósofo José Luis Pardo,
 Esto no es música, tiene como inspiración la imagen de portada
 de Sgt. Pepper's Lonely Hearts Club Band, el mítico disco de 
The Beatles, con su sorprendente galería de personajes que forman un retablo pop universal. De entonces a hoy, ¿a quiénes sumarían a una portada semejante en España? El estado de crisis y el malestar de la cultura. El fetichismo de la austeridad, los indignados… ¿Hay signos de una cultura alternativa? ¿La industria musical española es una nostalgia arqueológica? La metamorfosis de los dioses: de la música al fútbol. ¿El único escenario de la cultura pop es ya la pantalla y lo virtual?
(2.a planta. Teatro Fernando de Rojas)
21:30h Diálogo intrépido
Juan José Millás y Esteban Beltrán
La palabra del Poder, el poder de la palabra
Los abusos del Poder y los atentados contra los derechos humanos suelen ir precedidos de la sustracción del sentido de las palabras y de la intoxicación del lenguaje. ¿Hasta qué punto vivimos en la distopía de Orwell, con el control de las mentes y el imperio de la neolengua? Una tarea de la literatura es preservar el sentido de las palabras, rescatar las que están heridas, torturadas, a punto de extinción. ¿Está a la altura la literatura contemporánea, condicionada por la banalidad de los que solo la conciben como entretenimiento? El escritor Juan José Millás, autor de La lengua madre, y el director de Amnistía Internacional, Esteban Beltrán, movieron el silencio.
(4.a planta. Sala de Columnas)
21:30h Mesa redonda
José María Guelbenzu, Marcos Ordóñez, Carlos Pardo y Berna González Harbour
El papel de la crítica en la era de las redes
Del territorio frío al lugar cálido, liberador de entropía, de energía creativa. La crítica como un género, como una réplica en el escenario, como un relato del relato, un poema del poema. Los suplementos de cultura son pulmones de oxígeno para el ecosistema cultural. Octavio Paz habló de las revistas
 y cuadernos de cultura como anticuerpos para preservar la
vida cultural. Frente al modelo de la crítica como prescripción, ¿talleres de curiosidad, descubrimiento, convulsión? País, paisaje y página tienen la misma raíz, el latín pagus. Lo digital condiciona lo impreso, pero lo ideal sería la transfusión. El «otro tiempo» del país/página/paisaje.
Acto organizado en colaboración con el suplemento Babelia de El País. (5.a planta. Sala Valle-Inclán)
22h Recital poético-musical
Chefa Alonso y Eva Veiga
¿Cómo apartar las piedras con forma de corazón?
Chefa Alonso pone el lenguaje musical a funcionar en un contexto poético sonoro que tiene la improvisación y la escucha como base para la interacción con los poemas. Así, estos adquieren cuerpo y vibración en la voz de quien los escribió, la poeta Eva Veiga, en diálogo con la música (percusión menuda, kechapi, clarinete…) que la compositora e intérprete crea en cada ocasión.
(2.a planta. Zona Chill Out)
Programación en el Hotel IBEROSTAR Las Letras Gran Vía
Gran Vía, 11. Acceso libre
20h Mesa redonda
Ana Rossetti, María Sotomayor, Marta Porpetta y Elena Medel
Cien de cien. ¿Qué escriben las poetas españolas?
Nombres como los de Lucía Sánchez Saornil, Carmen Conde, Ángela Figuera Aymerich o Gloria Fuertes marcaron la forma de escribir el siglo XX, y sin embargo no figuran en el canon que las recuperaría para las lecturas de hoy. Fuera de las antologías, descatalogadas… Tres poetas (y antólogas, y críticas, y editoras) conversaron sobre la relación de quienes leen y escriben hoy con esta otra tradición. Sin adjetivos, pero con un pretexto fundamental: la mejor poesía.
21h Lectura poética
Carmen Boullosa
Hamartia (o Hacha)
«El viaje, el disfraz o el recuerdo, despojados ya de su natural, son solo el combustible de una llama que ilumina el poema antes de desaparecer».
Sábado 21 de noviembre
12h Diálogo intrépido
Will Gompertz y Fernando Castro Flórez
Verdad, farsa y comedia del arte contemporáneo
El arte es más popular y visible que nunca, frente a la crisis o marginalidad de otras expresiones culturales. Will Gompertz, que dirigió la Tate Gallery y hoy es director de Arte de la BBC, ha celebrado esta efervescencia en sus obras, como el muy reciente ¿Qué estás mirando? En este diálogo intrépido encontró un contrapunto genial en el también crítico y profesor de Estética Fernando Castro Flórez, autor de Mierda y catástrofe: síndromes culturales del arte contemporáneo. ¡Todo por el arte!
(4.a planta. Sala de Columnas)
12:30h Diálogo intrépido
Javier Moro y José Antonio Bastos
La indiferencia mata
La literatura tiene una dimensión curativa, y se mueve entre la desolación y la consolación. Históricamente, abunda la literatura de épica guerrera. En su última obra, A flor de piel, Javier Moro optó por otro tipo de heroicidad. Es el impresionante relato de la misión del médico Balmis, que a principios del XIX expandió la vacuna de la viruela por América y Asia con un grupo de niños del orfanato coruñés como portadores. A veces son noticia ocasional: cuando pierden la vida. Ahora que una tendencia en la ficción busca el hiperrealismo, tuvimos ocasión de oír el relato del dolor del mundo en boca de alguien que conoce los infiernos, el presidente de Médicos sin Fronteras en España, José Antonio Bastos.
(2.a planta. Teatro Fernando de Rojas)
13h Lectura poética
Karlotti
Traducción del silencio
La poesía puede ser un pez en el agua, en las calles y en las
plazas de la ciudad. Y desdoblar sus esquinas, y hacerse cercana, reconocible, la voz de los poetas. La palabra encarnada. El poeta gallego, además de leer cinco de sus poemas, ocupará una parte de su intervención en dar noticia sobre La Semana De Poesía Salvaxe, en la medida en que esta experiencia muestra contundente y humildemente su poética, entendida como la relación de la poesía con el público. ¿Con su público? Todas las personas que faenan en la vida y que habitan los días hechos a mano.
(2.a planta. Zona Chill Out)
13:30h Mesa redonda
Ignacio Elguero, Fernando González «Gonzo» y Sergio Vila-Sanjuán
Rehabitar el periodismo cultural
¿Ha llegado el momento de rehabitar el periodismo cultural? Después del erial franquista, con algunas excepciones en medios adelantados a su tiempo, la información cultural y los programas, suplementos o cuadernos de cultura fueron auténticos espacios de un período de resurgimiento ilustrado y vitalidad creativa. La crisis general de los medios, sumada a una crisis específica, diríamos existencial, del propio periodismo, con muchas incertidumbres en el horizonte, parece la ocasión para que el activismo de los espacios culturales devuelva una confianza básica en su función al periodismo.
(2.a planta. Teatro Fernando de Rojas)
13:30h Acción poética
Ana Curra y César Scappa
Los Planos De La Demolición
Los que me quieren dicen que soy todavía joven, pero ya llevo mucho tiempo escribiendo
tengo treinta y dos gloriosos años sobre los que hacerlo…
Estos libros no son libros
son navajas, bisturíes, guadañas, cuchillos
cortan
se fueron redactando por necesidad
son la justificación de todo y no pretenden justificar un carajo son tres pájaros enjaulados pidiendo a gritos salir en libertad
Estos son los libros y contienen ternura y depravación, rock 'n 'roll y celestiales mujeres
Tras ellos hay un individuo y toda una generación
Estos son los libros y en ellos se vive y se muere se ríe
se llora…
se miente
se hiere
se agoniza
se sublima la ternura
se maldice
y, ante todo, se relatan historias acerca de un magnífico montón de gente que en una gran proporción ya no se
encuentra entre nosotros
En estos libros se ama
Por encima de todas las cosas
En estos libros se pierde pero no se agacha la cabeza…
(Si te gustan, ya sabes de qué lado estás)
(4.a planta. Sala de Columnas)
14h Lectura poética
Ada Salas
Versos a secas
La poeta extremeña, Premio Juan Manuel Rozas y una de las voces más valoradas en la poesía española contemporánea, leyó poemas de Ashes to Ashes y Limbo y otros poemas, además de algunos textos inéditos.
(2.a planta. Zona Chill Out)
14:30h Entrega de premios
Cosecha Eñe 2015
El cuento protagoniza la revista Eñe, y el cuento reina —una
 edición más— entre los seleccionados en Cosecha Eñe 2015: diversidad, riesgo y calidad en un número que desvela el estado actual del género en español. La entrega del galardón a Giovanna Rivero se convirtió en una mesa redonda en torno al cuento, sus inspiraciones y sus creaciones, con la presencia de la ganadora y de varios de los finalistas. Una oportunidad de oro para escuchar
 a Emily Roberts, Sonia San Román o a la propia Rivero leyendo —además— sus propios textos.
(2.a planta. Zona Chill Out)
17:30h Lectura poética
Javier Gallego «Crudo»
Los versos enfermos curan
«El hombre que quema sus ruinas / aún está dispuesto a vivir un segundo más / aún está dispuesto a morir por segunda vez», dice uno de los últimos versos de Abolición de la pena de muerte, un poemario de duelo y renacimiento que el autor recitó junto a los poemas de su próximo libro.
(2.a planta. Zona Chill Out)
17:30h Un café con…
Namita Gokhale
Los asistentes al Festival Eñe tuvieron la oportunidad de acercarse al Festival de Literatura de Jaipur de la mano de su directora, la escritora india Namita Gokhale.
(3.a planta. Sala de Juntas. Actividad con aforo limitado a 20 personas.
Inscripción previa en las mesas de entrada del Festival)
18h Mesa redonda
Óscar Hahn, Chus Visor y Antonio Lucas
La niebla trasatlántica y los espejos comunicantes
Con la obra Los espejos comunicantes, el escritor chileno Óscar Hahn ganó el Premio Loewe de Poesía 2014, una poesía con la conciencia como musa, nacida de la búsqueda de la verdad. En este encuentro de Hahn con el poeta y periodista Antonio Lucas, Premio Loewe 2013, y con el editor Chus Visor, los espejos comunicantes sirvieron como metáfora para reflexionar sobre la comunicación/incomunicación, lo que se muestra y lo que se esconde en el azogue de lo invisible. Con el apoyo de la Fundación Loewe.
(2.a planta. Teatro Fernando de Rojas)
18h Lectura poética
David González
Versos entre cascabeles
«Versos desnudos», «palabras pintadas a pinceladas tarde tras tarde», poesías en las que «cabemos todos». Así describe Ricardo González Moreno los poemas de Versos entre cascabeles, el último libro de David González, editado por Huerga & Fierro; poemario que el autor presentó en el Festival Eñe con una lectura de algunos poemas escogidos. Lectura organizada gracias a la Fundación Repsol.
(2.a planta. Zona Chill Out)
18:30h Lectura poética
Víctor M. Díez
Oído en tierra
La escritura poética como escucha. Una voz más allá de las poéticas hegemónicas y de las estéticas conservadoras y ornamentales. Una exploración en los límites de la lengua propia y común. Un aullido libre e improvisado en medio de este maldito baile obligatorio de los tiempos.
(2.a planta. Zona Chill Out)
18:30h Diálogo intrépido
Raquel Robles y Carmen Boullosa
La Pequeña Combatiente y la Salvaja
Un encuentro en torno a la mejor literatura latinoamericana actual, en dos voces femeninas deslumbrantes, de convicción ética y de gran coraje en la búsqueda de nuevas formas expresivas. Pequeños combatientes es su más reciente novela, con un nexo autobiográfico, de la argentina Raquel Robles. Fue premio de novela Clarín con su obra Perder. La mexicana Carmen Boullosa, que, entre otros poemarios, escribió La salvaja, es también una novelista relevante con obras recientes como Las paredes hablan y Texas. Escritoras amazonas que abren pasos. Con el apoyo de la Embajada de México y el Instituto de México en España.
(4.a planta. Sala de Columnas)
19h Mesa redonda
Julio Llamazares, José Luis Cuerda y Juan Cruz
La novela de la vida
La vida tiene vocación de cuento y de película. Es frágil, pueden alguna vez taparle los ojos, pero nunca un recuerdo. Cuando se pone a recordar, la vida tiene el espíritu de un vagabundo. La vida es como se recuerda. Y cuando se pone a narrar, su única posesión es esa: las palabras portadoras de recuerdos, a veces reales, a veces inventados, pero todas son verdad. Este es el encuentro de tres grandes narradores de historias, en libro, cine o prensa. Los va a convocar el primer recuerdo… A partir de ahí, ya no hará frío y el vacío desaparecerá con la nada.
(2.a planta. Teatro Fernando de Rojas)
19h Lectura poética
María do Cebreiro
Un tranvía de lluvia en el desierto
Nada de lo que hay en la tierra es simple. Nadie habla del esfuerzo del sol por nacer cada día. Nadie conoce el dolor de la montaña cuando se abre, el estruendo del mar cuando se acuesta. No podemos saber lo que le cuesta a la luna dividirse entre dos hemisferios. No es un trabajo fácil florecer.
(2.a planta. Zona Chill Out)
20h Lectura
Giovanna Rivero
La escritora boliviana Giovanna Rivero no es por casualidad la ganadora del premio Cosecha Eñe 2015 (el certamen de relato que impulsa la revista de la que nace el Festival Eñe). Además de tres novelas, es autora de cuatro volúmenes de cuentos: Contraluna (2005), Sangre dulce (2006), Niñas y detectives (2009) y Para comerte mejor (2015). Rivero llenó el Festival Eñe de personajes, sueños, dilemas y argumentos los corazones de los lectores, para los que leyó algunos de sus textos más recientes.
(2.a planta. Zona Chill Out)
20h Mesa redonda
Manuel Vicent, El Roto y Ángel S. Harguindey
El oficio de romper el silencio
La mirada fértil que desvela lo que el conformismo y la adulación tapan. Las manos libres del periodismo y la literatura. Un encuentro contra tabúes y sombras. Una reflexión crítica sobre pasados y presentes tiempos difíciles, un juicio a los poderes enquistados, de la democracia limitada, de la sociedad del espectáculo como estupefaciente, y una reivindicación autocrítica del periodismo como bien común necesario.
(2.a planta. Teatro Fernando de Rojas)
20:30h Diálogo intrépido
Almudena Grandes y Gabriela Ybarra
¿Cómo empezar, cómo crecer?
La literatura fermenta con la imaginación en el humus de la memoria. La obra de Almudena Grandes, sus episodios de la España del siglo XX, y la primera novela de Gabriela Ybarra, El comensal, entrelazan la memoria personal y la colectiva de una forma que conmueve e interpela el tiempo presente. Recordar duele, pero es el antídoto contra la peor enfermedad: la suspensión de las conciencias. Acto organizado junto al suplemento Babelia de El País.
(4.a planta. Salón de Columnas)
20:30h Mesa redonda
Marta Sanz, Jorge Sánchez-Cabezudo y Alberto Sánchez-Cabezudo
Muerte, ¿escuchas?: Fuck off! (Homenaje a Rafael Chirbes)
La memoria incesante e insurgente que mana de la obra de Rafael Chirbes desmiente, en lo esencial, el siguiente hecho: que falleció el 15 de agosto de este año. Con sus novelas penetra de forma tan incisiva como sutil en el lado oscuro de la España contemporánea, una metáfora de la depredación globalizada y de la corrosión sobre la condición humana. La escritora Marta Sanz, junto al director y al guionista de la serie Crematorio, adaptación de la novela de Chirbes, recordaron al escritor más allá de la orilla.
(5.a planta. Sala Valle-Inclán)
21h Teatro
Contando hormigas
Las visiones de Hildergard
Este espectáculo, ofrecido gracias a colaboración de la Fundación Repsol, es un recorrido por el mundo interior de Hildegard von Bingen, abadesa visionaria alemana del siglo XII y figura esencial dentro del entorno artístico, filosófico y científico medieval. Hildegard fue una mujer excepcional, adelantada a su tiempo, que luchó por encontrar su propio camino. Las visiones de Hildegard está interpretada por dos actrices ciegas, ambas son Hildegard, pero cada una refleja una cara de la personalidad de la protagonista. Los textos y la música proceden de los escritos originales de Hildegard. Hildegard: Mariu del Amo y Mamen Martín.
Volmar: Werner Glaser.
Diseño gráfico y fotografía: Tomi Osuna.
Escenografía: Antonio Duque.
Música: Werner Glaser.
Vestuario y videocreación: Monika Rühle.
Dramaturgia y dirección escénica: Ignacio Calvache.
(2.a planta. Zona Chill Out)
21.30h
Luis García Montero y Rosa Torres-Pardo
Los versos de Luis García Montero y el piano de Rosa Torres-Pardo se dieron la mano en este delicado espectáculo, un encuentro único entre la música y la poesía. Una unión íntima de dos lenguajes distintos pero afines en la que los versos siguen las líneas de un pentagrama y las notas surgen en claves métricas. Con el apoyo de Fundación Loewe.
Sala de Columnas (4ª planta).
21:30h Diálogo intrépido
Jordi Soler y Benjamín Prado
España y Cataluña: un encuentro excéntrico
La República de las Letras: hiperrealismo del conflicto, poética 
de la diversidad. Las edades de la Memoria y el compromiso: exilio, esperanza, estupor y silencio. La literatura como un común país excéntrico, el líquido amniótico de la libertad y la diversidad. España y Cataluña, entre el lugar y el deslugar, ¿es posible un nuevo espacio situacionista de identidades compartidas?
Teatro Fernando de Rojas (2ª planta)
21:30h Mesa redonda
Eloísa Otero, Clara Morales y Manuel Cuéllar
El nuevo periodismo será convulso o no es
Hölderlin decía que donde está el peligro crece también lo que salva. En la intemperie, a contracorriente, germinan nuevos espacios de comunicación cultural alternativa. Su principal herramienta es la Red, pero no la única. Hay una creciente combinación y complementariedad de lo virtual y lo presencial. Del radical pesimismo del No Future, la tarea del periodismo cultural alternativo parece responder mejor a una lucha erótica con el futuro.
(5.a planta. Sala Valle-Inclán)
22:30h Acción
Quico Cadaval
Cuentos del otro mundo
El nuevo título de Quico Cadaval, Cuentos del otro mundo, oculta un espectáculo de narración oral, que ha transformado durante los últimos veinte años, acomodándose a las circunstancias ambientales, las inclemencias del clima, sus experiencias personales y los terrores más íntimos del público. El espectáculo se creó a partir de historias de la tradición oral, que se deformaron poco a poco durante la gira mundial inacabada en la que Quico Cadaval traslada a los públicos de los cuatro continentes las historias de su tierra natal. Por los Cuentos del otro mundo transitan fantasmas, valientes, hooligans, pescaderas, marineros, mitos del rock, líderes mundiales, revolucionarios, walt disneys, pervertidos sexuales, guardias civiles, campesinas, funcionarios, motoristas, prostitutas, agentes del orden, industriales madereros, narco-sindicalistas, patriotas irlandeses y otros animales… Pero no está garantizado que aparezcan todos.
(2.a planta. Teatro Fernando de Rojas)
Música
Ethnos Atramo
Viernes 18:30h y sábado 12h, 17h, 22h y 23:30h
El dúo formado por Pepa G. Lillo y Gabriel Navalón trajo al Festival Eñe su personal proyecto sonoro. Ethnos Atramo parte de la unión de sonidos de síntesis y secuencias electrónicas de vanguardia con timbres antiguos y ritmos procedentes de la tradición popular universal. El resultado supone la revisión de melodías escogidas del rico patrimonio legado por las generaciones pasadas. Una propuesta que pretende conectar con la imaginación del oyente, invitándole a cerrar los ojos y a dejarse llevar por la magia de los sonidos sin tiempo ni fronteras.
(2.a planta. Zona Chill Out)
Programa infantil
Sábado 12h
Creas tú
Taller de narrativa infantil (8-10 años)
Rebeca Barrón
En este taller los niños, a partir de un texto, pudieron crear otro texto diferente, realizando dibujos y situándose como protagonistas de la nueva historia. De esta forma, descubrieron que son capaces de imaginar nuevas y maravillosas aventuras. Fueron los protagonistas de un nuevo cuento. El taller llega a Festival Eñe gracias a la colaboración de la Fundación Repsol.
(5.a planta. Sala Valle-Inclán)
17h
Lolita y los sonidos de la granja
Taller de ilustración con plastilina (4-6 años) impartido por la Oveja Lolita, protagonista del libro.
En este taller, la Oveja Lolita enseñó a los niños los sonidos que hacen los habitantes de la granja, sus amigos, al hablar. Aprendieron las onomatopeyas, los verbos y los sustantivos de los diferentes sonidos de los animales de la granja, y con un poco de plastilina y mucha imaginación… ¡Tuvimos un imán muy original!
(5.a planta. Sala Valle-Inclán)
Programa juvenil
Sábado 18h
Si quieres, puedes hacerlo
Taller de narrativa juvenil (a partir de 13 años)
Adriana García
La escritora Adriana García mostró las claves para crear personajes fantásticos y cómo ponerles nombre, cómo captar la atención del lector y cómo hacer narraciones entretenidas y darle emoción a la trama, sin olvidar cómo elegir el título. El taller se centró sobre todo en su primera obra, la trilogía El secreto de Rubindul, una historia de fantasía, a modo de El Señor de los Anillos, pero con mucho de realidad.
(5.a planta. Sala Valle-Inclán)
Cuatro editores en busca de autor
El programa «Cuatro editores en busca de autor» ofreció a autores noveles la oportunidad de mostrar un proyecto literario, una maqueta o una publicación acabada a profesionales en el ámbito de la edición, en un encuentro privado cara a cara. Se requiere inscripción previa.
Durante dos jornadas, los seleccionados tuvieron una reunión individual de veinte minutos con dos de los editores que más se adecúen a su trabajo para hablar sobre su obra y la posibilidad de llegar a editarla. En ese tiempo analizaron su trabajo con el editor, quien se encargó de aportar sugerencias tanto sobre el desarrollo de la obra como sobre las posibles salidas profesionales.
Este año, los editores fueron Felipe Ponce, de Ediciones Arlequín; Rodrigo Díaz, de Albatros, quienes participan en el Festival Eñe gracias al apoyo de Acción Cultural Española (AC/E) y su Programa de Internacionalización de la Cultura Española (PICE), en su modalidad de Visitantes. A estos editores les acompañaron Fabio de la Flor, de Editorial Delirio, y Pablo Mazo, de Salto de Página.
Talleres exprés
Cinco talleres en un formato exprés de dos horas para iniciarse en la escritura creativa. Se requiere previa inscripción a través de www.revistaeñe.com y, el mismo día, en la recepción del Festival Eñe, en el vestíbulo del Círculo de Bellas Artes. El aforo es limitado. La inscripción en los talleres tuvo un precio de 20 euros, que incluía el abono general que daba derecho a entrar a todas las actividades del festival.
Viernes 17h
Artes, vanguardias e identidades en España
Carmen Pena
Este taller trató sobre cómo el internacionalismo se vio influenciado en el proceso de elaboración de las vanguardias españolas por el conflicto territorial, generando una terminología heterodoxa. La construcción de lo español se fragmentaría con las propuestas de las identidades plurales y sus imaginarios nacionalistas y regionalistas, centrales y periféricos.
Carmen Pena abordó todo ello con textos e imágenes que ejemplifican esta particularidad de nuestro vanguardismo. Nos visitaron Picasso, Miró, Alberto Sánchez, Benjamín Palencia, Tàpies, El Paso, Chillida, Oteiza, Maside, Seoane, Eiroa y algunos más.
(5.a planta. Sala Nueva)
19h
Graffiti & Art
Antón Patiño
El graffiti es una manifestación creativa que tiene una gran vitalidad. Las propuestas artísticas conviven con la vida cotidiana. Arte urbano de muy distintas características en propuestas lúdicas, críticas y reivindicativas que impregnan de colorido el paisaje de nuestras ciudades. En el taller pudieron verse trabajos de distintos países, la interacción con la pintura y los participantes se acercaron a las claves de realización a través de algunas técnicas, como el uso de plantillas o stencil, que permite una gran inmediatez expresiva.
(5a planta. Sala Nueva)
Sábado 11:30h
El nuevo periodismo
Fernando González «Gonzo»
«El periodismo es publicar lo que alguien no quiere que se publique. Todo lo demás son relaciones públicas». La frase de George Orwell no ha perdido vigencia, algo que sabe muy bien Fernando González, «Gonzo». Su estilo, nada complaciente con el poder, responde a una nueva corriente periodística que siempre busca la verdad, aunque moleste. En este taller, los participantes pudieron conocer algunas de las claves de ese nuevo periodismo de preguntas incómodas, hasta impertinentes a veces, que Gonzo ejerce y del que es uno de sus máximos exponentes desde hace años.
(5.a planta. Sala Nueva)
16:30h
El arte de contar
Nelson Calderón
En este taller exprés nos adentramos en el mundo de la narración oral para conocer las herramientas de las que, a lo largo de los tiempos, se han servido los contadores de historias para invitar a los demás a dejarse llevar por la imaginación: la expresión corporal (el cuerpo y sus capacidades expresivas), la expresividad de la voz (la entonación, el ritmo, el volumen), la respiración en la narración de cuentos, la improvisación y la visualización.
(5.a planta. Sala Nueva)
18:30h
Cómo ser librera en el Apocalipsis…
Lola Larumbe
¿Y no morir en el intento? Bueno, de momento, lo están contando, lo llevan ya contando un tiempo largo. Lola Larumbe compartió su experiencia como librera apocalíptica de estos últimos años con los participantes del taller. Al modo de Calvino, deslizó sobre la mesa seis propuestas para el próximo librero que se debatieron y con las que se intentó configurar, en un modelo práctico, el fondo y la forma de una librería real.
(5.a planta. Sala Nueva)
Feria de editores
Publican contra viento y marea, son editores kamikazes y orgullosos de su valentía, apasionados de la literatura, letraheridos de imprenta o ebook. Invitamos a una docena de nuevos editores de
aquí y de allá: todos los géneros (ensayo, narrativa, poesía y teatro) en ediciones cuidadísimas, confiando en el futuro de la literatura en español y arriesgando para impulsar a voces nuevas desde su catálogo. Participan:
— Arrebato
— Cazador de Ratas – Firmas: Antonio Sachs (día 21, 12:30
y 19h) / Eduardo Cruz Acillona (día 21, 13:30 y 18h) / Mauricio-José Schwarz (día 21, 11:30 y 20h)
— Círculo de Tiza – Firmas: Virginia Galvín (día 21, 18h)
— Dos bigotes – Firmas: Claudio Mazza (día 21, 13h) /
Álvaro Domínguez (día 21, 18h)
— Frida Ediciones – Firmas: Luis Ramiro (día 20, 18h) /
Diego Ojeda (día 20, 18h) / Rodolfo Serrano (día 20, 18:30h) — Gallo Nero
— Harpo Libros – Firmas: Clara C. Scriba (día 21, 18h) /
Pablo Benavente (día 21, 18h)
— La Línea del Horizonte
— La uña rota
— Meninas cartoneras – Firmas: María Paz Ruíz Gil (día 21, 12h)
— Salto de página – Firmas: Roberto Paz (día 20, 18h) /
Javier Moreno (día 21, 19h)
— Ya lo dijo Casimiro Parker – Firmas: Isabel García Mellado (día 21, 18h)
Radio
Radio Círculo (100.4 FM) retransmitió en directo diversas actividades del Festival Eñe.
Café
El Café del Festival, punto de encuentro para participantes y público, estuvo instalado en el Salón de Baile, en la segunda planta del Círculo de Bellas Artes. Con el apoyo de illycaffè.
Librerías y firmas
Los autores dedicaron sus obras en las librerías del Festival, instaladas en el Salón de Baile del Círculo de Bellas Artes, al finalizar el acto en el que participen (2a planta).
Redes sociales
Sigue en directo el Festival en la web de la revista Eñe (www.revistaeñe.com) y en @revistaparaleer.
Fundaciones en el Festival Eñe
Desde 1988, la Fundación Loewe defiende y difunde la creación poética con su Premio Internacional de Poesía, entre otras actividades. Su apuesta por la poesía se concreta en el Festival Eñe a través del encuentro entre el escritor chileno Óscar Hahn, Premio Loewe de Poesía 2014, con el poeta y periodista Antonio Lucas, Premio Loewe 2013, y con el editor Chus Visor. También con el apoyo de la Fundación llega la conversación, con insertos poéticos, entre Joaquín Sabina y Luis García Montero. www.loewe.com
Fundación Repsol trabaja, entre otros campos, en la integración de las personas con capacidades diversas, rompiendo las barreras físicas e intelectuales que a menudo se interponen entre ellos y el mundo. El objetivo es ayudar a crear una sociedad más justa, más concienciada y más libre, a medida que vayan desapareciendo las limitaciones y los frenos a favor de la integración. Una labor de interpretación a través de la cultura, que en el Festival Eñe se concretó en diversos actos dedicados a la literatura y el teatro. www.fundacionrepsol.com