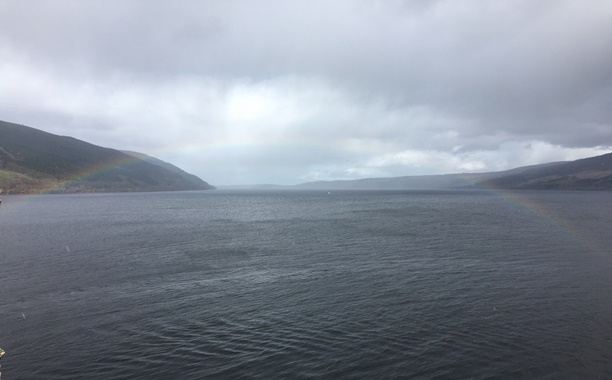 Aquí y ahora 38 (Diario de escritura), por Miguel Ángel Hernández
Lunes 10 de abril
Amanece temprano en Edimburgo y la luz del sol llena toda la habitación. Desayunáis en casa y salís sin prisa a visitar la ciudad. El tiempo os respeta. Subís hacia el castillo y desde allí contempláis el paisaje urbano. Los turistas miran de espaldas, a través de la cámara del móvil. Los palos de selfi comienzan a ser una prótesis siniestra.
A la bajada del castillo hay una fábrica de tartán. Raquel dice que estarías guapo vestido de escocés y accedes a la sesión de fotos. Os visten con la ropa típica y os hacen posar de todas las maneras. Con espadas, con gaitas, levantando el kilt… Afortunadamente nadie os conoce.
Por la tarde, después de pasear sin rumbo por la ciudad, quedáis con Luz y su marido, que también están en Edimburgo. Tras más de diez años de contacto por internet, Raquel y ella se desvirtualizan allí. Las casualidades del mundo global y digitalizado.
Cenáis en un restaurante cerca de la casa y os recogéis pronto. Antes de iros a la cama, veis un capítulo de Big Little Lies. La serie os ha conquistado desde el principio. De nuevo, una estructura que combina el relato de la historia con entrevistas desde el presente a algunos de los testigos de lo ocurrido. Lo mejor: la tensión por saber lo que ha pasado. Alguien ha matado a alguien. Y no se sabe quién es el asesino ni el asesinado.
Martes 11 de abril
Por la mañana tomáis el tranvía hacia el aeropuerto y allí alquiláis un coche para viajar hacia Inverness. Has pasado la noche algo nervioso pensando en lo difícil que va a ser acostumbrarse a conducir por la izquierda. Y nada más subirte al coche, eres consciente de que tenías razón: conducir por la izquierda, de buenas a primeras, es una pesadilla, sobre todo en los cruces y las rotondas. Aunque, con diferencia, son las marchas lo que te llevan de cabeza. Cada dos por tres golpeas la puerta con tu brazo derecho. Es un gesto inconsciente del cuerpo. Tienes que aprender a conducir de nuevo. Recuerdas la tensión de los primeros días de la autoescuela. Ni siquiera pones música para no distraerte.
Raquel ha metido en el GPS algunas de las localizaciones de Outlander. La primera es la casa de Jamie Fraser. Para llegar allí tenéis que atravesar varios caminos de cabras en los que se va incluso la señal del teléfono. Pero cuando ves la mirada de Raquel y el modo en que dice Lallybroch, todo adquiere sentido. Entráis a la propiedad privada saltándoos todas las normas y ella posa como Claire en la novela. Te contagia la alegría.
Por pura intuición, conseguís salir de allí y conduces hasta Blackness Castle, otra de las localizaciones. La silueta del castillo frente al mar es espectacular, pero el viento te hiela los huesos. Ni siquiera el café consigue calentarte. Tras ese lugar, salís hacia Linglithgow Palace, que en la novela es una especie de prisión, y continuáis la ruta Outlander en el pequeño pueblo de Culross –el Cranesmuir de la serie–. Parece que se haya quedado parado en el tiempo varios siglos atrás. En una de las plazas, descubres a dos señoras mayores haciendo fotos a un monolito que también aparece en la serie. No estáis solos en esta locura. La serie y la novela son la atracción del lugar. Tomáis un café y un bizcocho en un pequeño bar lleno de fotos de los actores firmadas durante el rodaje.
La ruta acaba en Falkland, la Inverness de la serie. Allí está el hotel al que llegan los personajes al principio y el monolito en el que se aparece el fantasma de Jamie Fraser. También la tienda de regalos en cuyo escaparate Claire se queda absorta. Tú no sabes nada de esto, ni de la novela ni de la serie, pero Raquel te lo va explicando y poco a poco vas teniendo la sensación de ser un experto en todo, al menos en los episodios esenciales. En ese hotel café vuelves a tomarte otro capuchino y otro brownie de chocolate. Una señora mayor explica a su marido que allí es donde se hospeda Claire y su pareja en el primer capítulo de la serie. No estás solo en esta aventura, lo vuelves a comprobar.
Conduces entonces hacia a la Inverness real y llegáis allí a media tarde. El Bed and Breakfast que os han recomendado parece sacado de una película; no puede ser más típico. Dais una vuelta rápida por la ciudad y regresáis enseguida. La tensión de todo el día conduciendo por la izquierda se te ha posado en el cuello y comienzas a notar el cansancio. Raquel, en cambio, es pura euforia.
Miércoles 12
Desayuno escocés completo. Salchichas incluidas. Devoras hasta el último champiñón.
Visitáis el campo de batalla de Culloden. Recorréis el lugar en el que los Jacobitas fueron masacrados a manos del ejército británicos y os cuentan la batalla. Es un viaje en el tiempo. Y una lección de historia. Emociona el modo en el que la derrota configura la identidad y la memoria de un pueblo.
Después, a unos pocos kilómetros de Culloden, visitáis un enterramiento prehistórico, el clairn de Clava. Tres círculos de piedras rodeados por árboles. Supuestamente en ellos se inspira Diana Gabaldón para el inicio del viaje en el tiempo de la protagonista de Outlander. Lo cierto es que el tiempo realmente se frena en ese lugar. Más que en otro sitio, tienes la sensación de que hay algo de otra época que aún reverbera en el presente. Algo invisible, pero perceptible. Una energía extraña que te recarga y te eriza la nuca.
Volvéis a subir al coche y os dirigís al Lago Ness. La carretera es estrecha, pero los coches van a toda prisa. Tú intentas ser prudente, pero no puedes evitar causar una retención detrás de ti. Coméis en Drumnadrochit, la casa del monstruo. Allí todo es Nessi. Incluso la cerveza. La industria del misterio.
Tras la comida, entráis al castillo de Urquhart y desde allí bajáis al lago. El tiempo es inestable. Llueve, sale el sol, llueve, sale el sol… en menos de diez minutos. El arco iris no deja de aparecer. En la orilla del lago, tiras algunas piedras que rebotan sobre el agua y te llevas en el bolsillo varias como recuerdo.
Regresáis a Inverness. Paseáis por la ciudad, cenáis rápido y volvéis al Bed and Breakfast para ver el Madrid-Bayern. Afortunadamente, Internet funciona. Gana el Madrid. El día ha sido perfecto.
Jueves 13 de abril
Desayuno escocés temprano. Hacéis las maletas y las subís al coche. Hoy se acaba el viaje. Antes de salir, dais un pequeño paseo y os despedís de la ciudad.
De camino a Edimburgo, se os ocurre visitar la destilería Tomatin. Te llama la atención el nombre y decides parar allí por mera curiosidad. Tenéis tiempo de sobra, así que hacéis toda la visita guiada y después la cata de whisky. ¿Quién conduce?, preguntan. Le dices a Raquel que levante la mano y pruebas las cuatro clases de whisky que te sirven. Te gustan todos. No puedes evitar llevarte a casa alguno de ellos.
La cata es mínima, pero algo se te sube a la cabeza. En un momento determinado, te das cuenta de que llevas unos minutos conduciendo por el lado contrario. Te has relajado tanto que has conseguido olvidarlo todo.
Llegáis a Edimburgo con el tiempo justo para dejar el coche y facturar el equipaje. Por problemas técnicos, en el avión no os dejan usar los dispositivos móviles y no podéis ver el final de Big Little Lies. Lees de un tirón Saturno, la pequeña novela de Eduardo Halfon que ha publicado Jekyll&Jill. Es una delicia. Una carta al padre, como la de Kafka, pero también un estudio sobre el suicidio literario. Halfon es un autor al que sigues desde hace tiempo. Te sedujo con El ángel literario y desde entonces no has dejado de leerlo. Este librito es en realidad lo primero que publicó, pero estaba inédito en España. Es una suerte que alguien se haya atrevido a editarlo aquí. Y sobre todo que lo haya hecho de esa forma tan delicada y primorosa.
Llegáis a Murcia casi a las tres, cansados, pero con la sonrisa en la boca. Ha sido un viaje mágico. Y lo habéis aprovechado hasta el último momento.
Viernes 14 de abril
Al despertar eres consciente por primera vez estos días de que es Semana Santa. Piensas en el pasado y en cómo estos días todo era tristeza. Había muerto Cristo en la cruz y tú también tenías que mantener el duelo. Hoy, sin embargo, todo es diferente. Aquel mundo es para ti apenas un rumor, aunque hayas vuelto a revivirlo con la novela que escribes.
Contestas varias decenas de mails y comes con Leo, José, Diego y José Óscar. Viernes Santo Hindú. Y literario. Habláis de literatura, de vuestros proyectos, del machismo en la literatura y también de la dictadura de lo políticamente correcto. José Oscar saca libro en unas semanas. Diego, en unos días y José edita sin parar. Murcia tampoco se acaba nunca. Al final os quedáis Leo y tú y tomáis la última en la plaza de Europa. Después te encuentras con Marta y sus amigos. Es el cumpleaños de Lola, y sigues un poquito más. No estás tan perjudicado para todo lo que has bebido.
Sábado 15 de abril
Pasas el día encerrado en el despacho. Necesitas volver a la novela. En cuanto te pones delante del ordenador todo fluye. Corriges a una velocidad que no habías previsto. Lo que lees te gusta y notas que hay partes que están mucho mejor de lo que esperabas. A finales de la tarde estás prácticamente en trance. Te quedas unos segundos durmiendo y regresan las pesadillas. Te angustia, pero sabes que es buena noticia. Eso significa que has vuelto a entrar en la novela, que la historia vuelve a caminar contigo. Hay semanas en las que es difícil retomar el ritmo y la voz de la historia, y otras veces, en cambio, uno es capaz de zambullirse hasta el fondo con solo tocar el agua.
Domingo 16 de abril
Te vuelves a encerrar desde temprano. Pensabas ir al gimnasio –hace ya más de un mes que lo tienes abandonado–, pero la historia te reclama. Te has levantado temblando por lo que has soñado y no puedes evitar sentarte al teclado. Es el estado del cuerpo necesario para reescribir el epílogo. A las tres de la madrugada sientes que has conseguido llegar el final. Falta aún una pequeña parte por reescribir; pero el final ya es definitivo. Ves la imagen, la evocas, la experimentas. Es ahí donde todo acaba. Te vuelves a emocionar. Por el trabajo terminado y por lo que significa poder contar esa historia. Nunca habías creído que ibas a poder hacerlo. Y poco a poco va tomando cuerpo. Cuerpo extraño, amargo, doloroso, pero necesario.